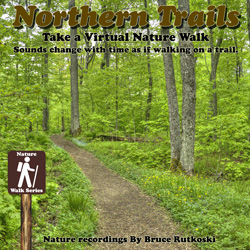 Introducing a brand new album available: Northern Trails, a Virtual Nature Walk. This is our first release of an album using our proprietary recording techniques that simulates an actual trail walk! It is absolutely amazing. So many more birds are heard and it is very relaxing to listen to.
Listen to a dynamic and exciting new dimension in nature recordings. As you listen, many new birds will be heard over time as environments change, just like you are actually walking. Proprietary recording techniques were used to record the sounds of actual nature walks. Hear the beautiful sounds of nature, without footfalls, music, or narration. Great for relaxation, treadmill exercise, therapy, or when you can't get outdoors. Experience the sounds of Spring from forest trails in Michigan, Minnesota, and Manitoba Canada. Wood and Swainson's Thrush, Veery, warblers, vireos, flycatchers, sparrows, Ovenbirds, Grosbeaks, woodpeckers, Snipes, Loons, Coyotes, and more are heard during these walks.
Visit our web site to hear audio samples, including a 3 minute sample from the album on the home page, www.natureguystudio.com. Note, the samples are short and don't give the feeling of movement as you would hear if listening for longer periods of time.
Northern Trails Track List:
Manitoba Forest: 28:11 min.
Bird populations soar in this isolated forest habitat surrounded by endless fields of grain. Along the woodland trails, you will hear a great variety of common songbirds, such as Catbirds, Robins, White-throated Sparrows, and countless warbler species. Listen for vireos, Grosbeak, flycatchers, Nuthatch, Veery, House Wren, Red-Wing Blackbirds, and even a pair of Coyotes. See how many birds you can identify.
Michigan Woods: 22:00 min.
Walk along trails through the woodlands of Michigan's Upper Peninsula in late May. Your walk begins with the songs of various warblers in a swampy wooded area. Listen for a Sandhill Crane as it flies by. Then, enter a woodland that leads to a lake shore. Ovenbird, Wood and Swainson's Thrush, White-throated Sparrows, vireos, warblers, Great-crested Flycatcher, waterthrush, and more are heard.
Minnesota Lakeside: 29:00 min.
This trail goes for miles along a large, secluded lake, traversing woodlands, fields, and wetlands. Moose and bear tracks are everywhere, and Bald Eagles sail overhead. A delightful chorus of birds accompanies you on this early morning walk in June. Your walk will begin in an open area, with Rose-breasted Grosbeaks and warblers. As you pass by marshes, listen for the winnowing sounds of Common Snipe. Loons are heard calling from the nearby lake. Gentle breezes begin to stir. Abundant flycatchers, warblers, vireos, and woodpeckers are heard as you travel though the woods.
Total Run Time: 79:11 min.
Northern Trails is in stock and ready to ship. Order today and escape to a land of enjoyable nature sounds like you never heard before. This album is available as a CD at: http://www.natureguystudio.com/catalog/northern-trails-cd-p-90.html, or as a downloadable MP3 album at: http://www.natureguystudio.com/catalog/northern-trails-mp3-p-91.html.