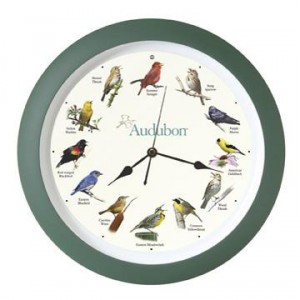 I am now stocking one of the most popular products for those who enjoy the outdoors and birds, the Audubon Singing Bird clock. 12 of the most popular North American birds are featured on this 13″ Audubon Singing Bird Clock framed in Green Matte. Each hour is announced by the beautiful song of that particular bird — a different song every hour. A light sensor deactivates the sounds when the room is dark. Officially licensed by the National Audubon Society. We now have these clocks at just about the lowest price you can find anywhere.
Buy one today for yourself or for a great gift by clicking this text.
Starting at 12 o'clock, the birds of the hour are: Summer Tanager, Song Sparrow, Purple Martin, American Goldfinch, Wood Thrush, Common Yellowthroat, Eastern Meadowlark, Carolina Wren, Eastern Bluebird, Red-winged Blackbird, Yellow Warbler, and Hermit Thrush.
Powered by 3- AA batteries, not included. For best sound, place this clock in a well lit room. The volume is related to how light the room is. A darker room will cause the volume to be low, and the sound will turn off if totally dark.