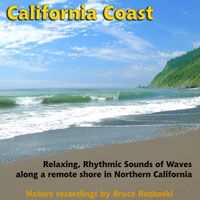 Introducing a new album of nature sounds, California Coast. Available in CD or MP3 versions.
Listen to the relaxing, rhythmic sounds of the Pacific Ocean along a remote coastline in Northern California. This album has one long track of surf sounds – perfect for relaxing and falling asleep. Hear each wave break on the shore, and recede back along the sandy beach with a bubbling fizz. No music or narration is added, nor are there any other distracting sounds heard. The surf was recorded in calm weather at an inlet, where a small creek meets the ocean and creates unique sounding waves.
This is one of my best recordings of a classical sounding ocean coastline, with distinct waves. Each area of coastline sounds different, depending on the topography, ocean depth, and weather.
For more information on the album, listen to audio samples, and to purchase the album, visit: http://www.natureguystudio.com/catalog/california-coast-cd-p-79.html
For a limited introduction time, use coupon code: CACOAST for a 10% discount on the purchase of the album.