You are here:
Home
»
Catalog
»
Items on Sale
»
Audubon Singing Birds Sale
---


Southern Trails MP3
$9.00
$7.50


0 items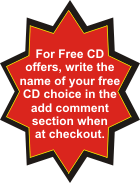 Audubon Singing Birds Sale

Lowest prices available. Audubon Birds with real sounds. Irresistible, cute, cuddly, soft birds that sing their song when squeezed are perfect for all kids ages 3 and up. Kids will love sharing their collection with friends. More birds will be added in the near future! Collect all 14+ familiar backyard species everyone enjoys today. Named one of the best toys by JR. Magazine, and great new innovation in toys by Toy Wishes Magazine.

Product Name
Price+
Buy Now
Black-capped Chickadee
$8.99


On sale $6.99





Blue Jay
$8.99


On sale $6.99





Mallard Duckling
$8.99


On sale $6.99





Ostrich Baby
$8.99


On sale $6.99





Penguin Baby
$8.99


On sale $6.99





| | |
| --- | --- |
| Displaying 1 to 5 (of 5 products) | Result Pages: 1 |